We had many great conversations with people from the Longfellow and Phillips area about strategies to improve health and environment in our community.  We asked people to look at our list of 14 strategies, pick the two that are most important to them, and let us know why.  Here is a look at some of the things people said on a few of the strategies: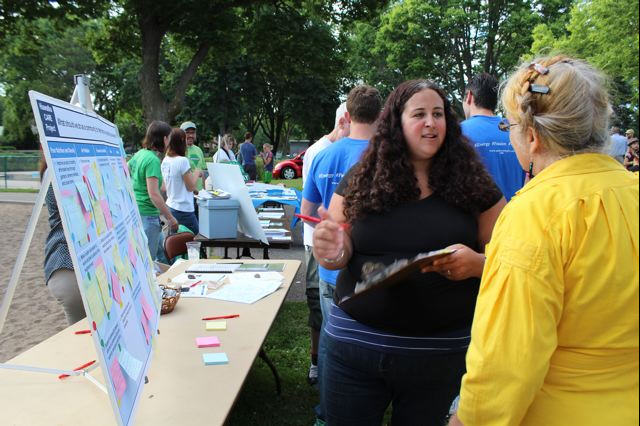 Improve access to healthy, affordable food through gardens, farmers markets and urban farms:
Local, healthy food is critical for our future.
Community gardens are a great way to build better communities and neighborhoods!!
There aren't a lot of options/access for low-income people.
I like the idea of diggin' in the dirt!
Make it safer and easier to walk and bike to places in the neighborhood
I want to feel safe walking my dog.  A better sense of community improves safety.
To stay safe and exercised.
People outside also bring the community together.
Plant more trees
Because we need more air from the trees and they just look cool.
To save animals homes.
Replace all the trees we lost in the storm.
Reduce chemical use in homes and businesses and cut down on improper disposal of hazardous waste
Educate people about chemicals in the home – i.e. cleaning products.
Stop or slow the use of fertilizer.
Chemicals in our water end up in human bodies – many homes / companies could easily reduce.
Support community-based efforts to promote physical activity and good nutrition
We need programs that provide thoughtful, culturally sensitive education about food and fitness for kids and families.
Educate in the schools on good nutrition choices and physical activity options.
Keep kids moving.  We need our kids to livelong healthy lives.
Click on the link to see the full list of comments.
By