The Minneapolis Park and Recreation Board is in the process of creating new park plans for the South Service Area – which includes all neighborhood parks south of downtown and east of I-35W. The purpose of the plans are to show what the parks will look like in the future and help the Park Board plan to for resources they have and align what's in the parks with what people really want there.
They will be holding an Open House on December 15, 2015 from 6 to 8 pm at Longfellow Recreation Center to get your thoughts on the plans. The meeting will focus on Adams Triangle, Brackett Field, Hiawatha School Park, Longfellow Park, Matthews Park, Normanna Triangle, and Seven Oaks Oval — although comments on all parks will be taken. Check the project web page for more information.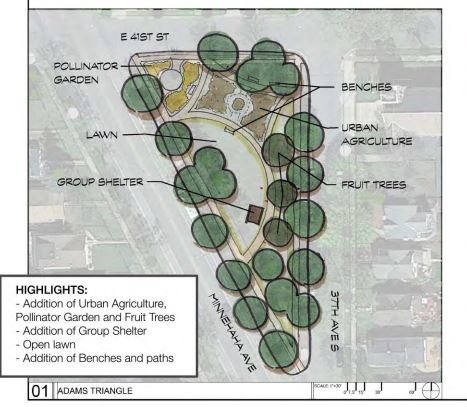 Concept for Adams Triangle – also identified as possible public / civic / community space in Minnehaha-Hiawatha Community Works framework document.